Riding this time of year can be downright painful. Depending on where you live, the commute to work can easily dip into sub freezing temps, and longer rides can lead to unexpected encounters with rather severe weather.
I had one such encounter a couple of years ago while riding through Texas. I had ridden my ZRX down to San Antonio from Lubbock to spend New Years with some old high-school friends. The one thing you should know about riding in West Texas is that the weather is extremely volatile. It can go from 70 degrees and sunny to 25 degrees with 50mph winds. The weather stations try to stay on top of it, but with huge swings like that, conditions can be hard to predict.
As I rolled out of Lubbock, the temperature was hanging just above freezing, and it was quite foggy. We had received a bit of snow in the past week, but most of it had melted or been cleared off the roads.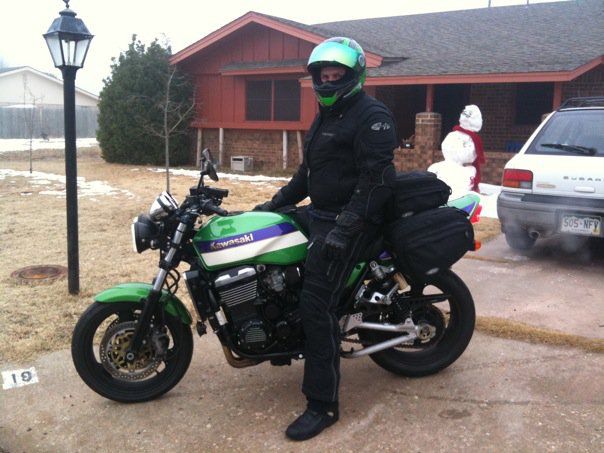 Leaving home for warmer land!
The first three hours of the ride were definitely cold. A fine mist was in the air and although I stayed mostly dry, it seemed to only add to how cold it felt. A quick stop for gas and coffee in Sweetwater warmed me up, and I pointed my front tire South towards the Texas hill country.
By noon I was down in the hill country of Texas, riding the roads known as the three sisters. These roads take you through some nice Texas countryside, with sweeping turns and beautiful vistas. Their rough surface, occasional cattle guards, rock ledges, drop-offs and guardrails will have you keeping your speed in check, however. With the sun shining and being further south, I now had beautiful weather for the rest of my journey to San Antonio.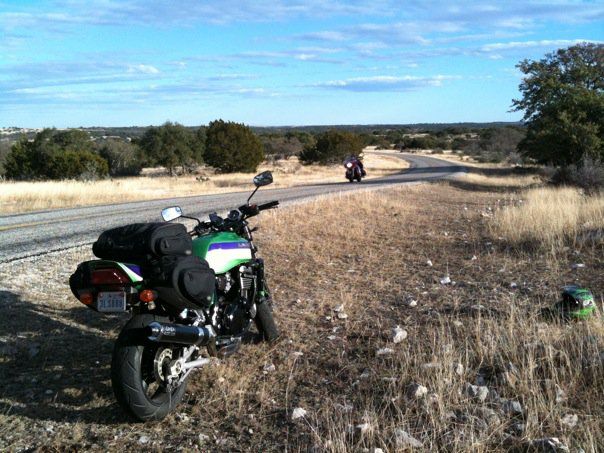 I'm not the only one enjoying the day…
With gas stations few and far between, you need to keep an eye on your fuel level. A slight miscalculation had me running on fumes when I finally made it to this old service station.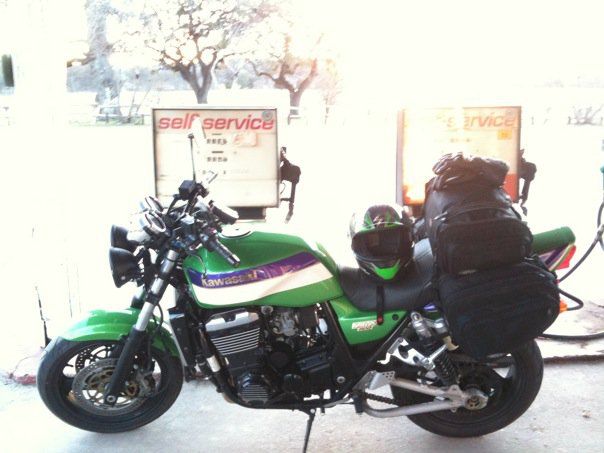 Barely made it!
I made it in to San Antonio just in time for dinner with my friends. The next few days and nights were spent exploring the city, learning about its history and having a great time along the Riverwalk. If you ever have a chance to visit this city, it is well worth the trip!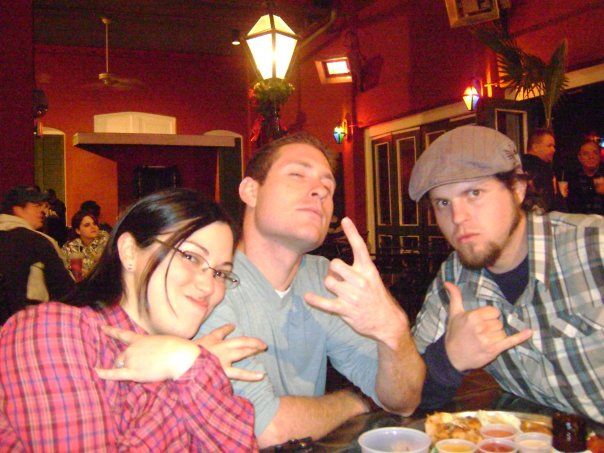 Ringing in the New Year with friends!
What a good looking bunch!
The real cold weather story begins with my ride back up North. After saying our goodbyes the night before, I woke early, loaded up my Cortech Sport Saddlebags, removed my Xena Disc Lock Alarm and headed out of the city. The morning air was cool and crisp, and I was looking forward to another day in the saddle. The total ride time from San Antonio to Lubbock should typically be in the 7-8 hour range, and covers approximately 390 miles of Texas two lane highway (very little interstate). What many people don't realize about the great state of Texas is how drastic weather can change from one part of the state to the next. While San Antonio sits at under 700 feet elevation, the Texas panhandle is mostly over 3,000 feet, and experiences more of a high-desert climate. As I rode North, a large cold front was rushing towards me from Colorado. I had of course checked the weather before leaving, so I was trying to cover as many miles as possible early in the day.
About three hours into the ride I ran head on into the cold front. Over the course of about 20 minutes, temperatures dropped from the mid-fifties to the mid 20′s. I passed a bank thermometer showing 23 degrees, and wondered how far I could make it in these conditions. I was not equipped with any heated gear, all I had were my layers that I had brought with me. Some long johns, sweat pants under my riding pants, and a light, insulated jacket inside my riding jacket fought to retain body heat. TourMaster Polar Fleece Glove Liners added an extra layer of warmth to my already insulated Alpinestars Storm Rider Gloves. Probably the most indispensable piece of cold weather gear, however, is the neck gaiter or balaclava. I personally use the Alpinestars Winter Touring Balaclava, which blocks wind from hitting the neck, has a waterproof skirt, and is very comfortable under the helmet. Many other styles of Neck Gaiters and Balaclavas are available on our website.
With the better part of 200 miles still to go, I knew that I had to keep a close eye on my physical condition, and watch for signs of hypothermia. Many of the areas I was riding through had very sparse population and limited cell phone coverage. After about an hour of pushing through the cold, it was time to pull over and grab a warm drink. I tried keeping the stops to a minimum, but the further I went, the shorter the interval between stops became. Soon a mix of dense fog, mist, and sleet set in, and I started contemplating stopping for the day. A quick check of the weather showed more of the same for the next 3 days, and I just couldn't afford to sit around and wait it out.  I pushed on through the cold mist, having to scratch ice away from my face-shield to keep my vision clear.  Amazingly, the Scorpion EXO-700 I was wearing was doing a great job not fogging from the inside, thanks to its Everclear Face Shield.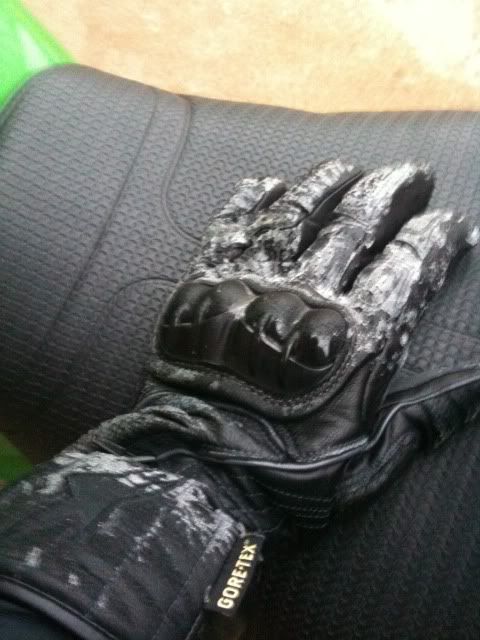 Ice forms on my gloves after riding through brutal winter conditions
For any of you who have ridden through cold weather, you know how uncomfortable it can be. Stinging, numb hands are not only uncomfortable, but they can be dangerous, too. When you start to notice things like your clutch operation isn't as smooth as it should be, or you simply can't feel the bars in your hands, it's probably a good idea to pull over. The last couple hours of riding I had been kicking myself for not having heated gear. Then a thought came to me – what about those heating pads they sell for arthritis? With that in mind, I stopped in what had to be the worlds smallest Walmart in Ballinger, TX – still 175 miles from home. Success! I raided their 1 aisle pharmacy for just about all the heating pads they had in stock:
What would MacGyver do?
After spending some time in the bathroom taping these all over my torso and stuffing a few in my glove gauntlets, I was ready to continue. I pushed on for the next three hours, feeling mild relief where the heating pads were for the first hour and a half or so. The last hour was pure torture. I had been riding for a good 6 hours in sub-freezing temperatures (on a naked bike, no less). You can imagine the joy I felt when I finally pulled into the driveway at home (our snowman was still there to greet me).  As I swung my leg over and dismounted, I heard some unusual crackling sounds.  I looked down and my entire torso was covered in a sheet of ice.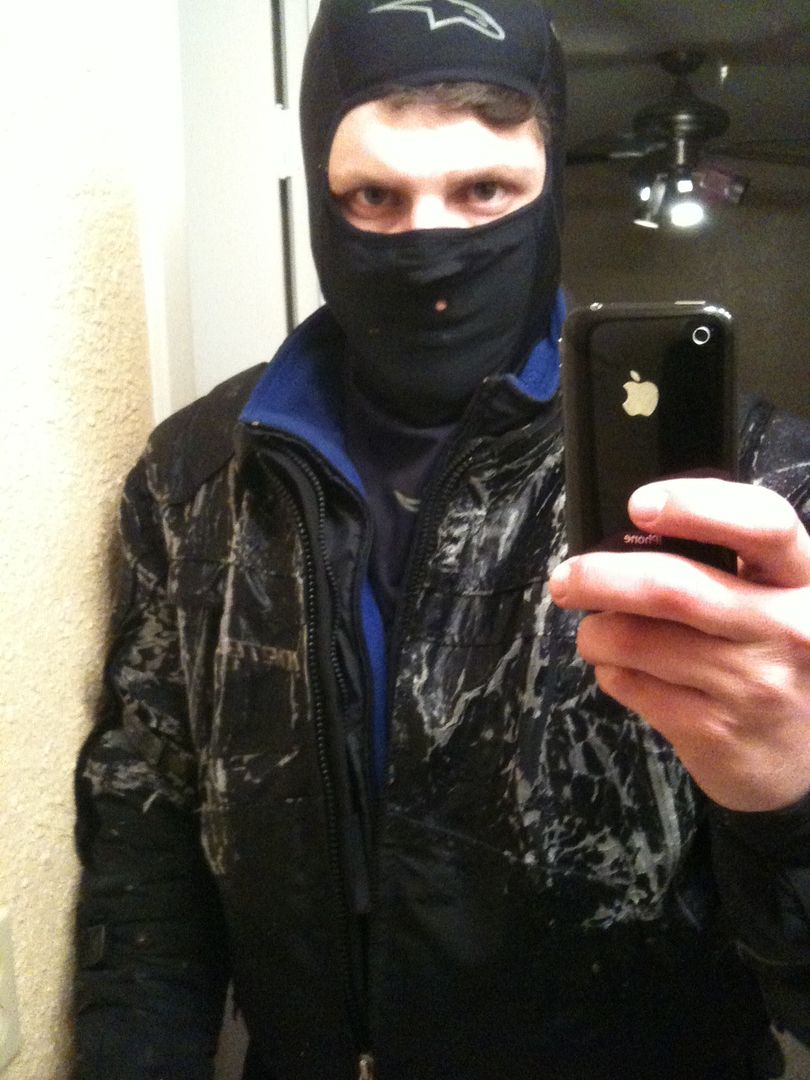 You could say it was cold…
A few weeks later I picked up a set of TourMaster Synergy Heated Gear. I wired up the included power lead to the battery on my bike, plugged myself in, and went for a ride. Having just gone through this experience, I had the gone with the full setup.  TourMaster Synergy Heated Pants, Electric Heated Jacket, and Leather Heated Gloves all plug into each other, and conveniently run off a single controller (also included).  It was love at first ride.  I set the controller to medium and within a few seconds I was completely enveloped in warmth.  Legs, arms, body, and hands were toasty warm.  I cranked the gear up to high and within a minute I was almost uncomfortably hot! Where was this gear when I needed it a few weeks ago?!
Synergy heated jacket
Since then I have spent a lot of time in my TourMaster Synergy Heated Gear. I just recently pulled it out of the back of my closet for this winter's riding. Here on the North/South Carolina border it has been in the upper 20′s for my ride in to work in the mornings, and I have been reminded once again how much I love my heated gear. Having heat available not only keeps you much more comfortable, I also firmly believe that it makes for a safer ride in cold conditions. Vendor supplies for heated gear are already running thin this year, which tells me others have already seen the light. So if you have been on the fence about getting some heated gear, I can't recommend it enough, and would encourage you to pick some up while it is still available!